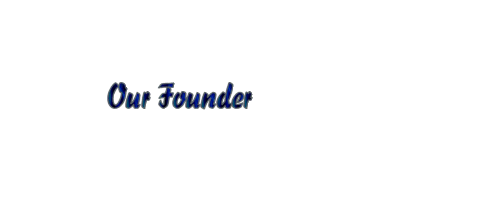 Just some boring stuff about how this place began.
My name is Kami. I am MamaDori. THis idea formed in my mind as a child. I am sure it does in many children. And as many children do, I began to forget as I grew older. I didn't even know what I wanted; I began to get distracted with finding other goals. I went to college and got a degree in law enforcement. I forgot I even had the dream of the world having no more unwanted animals. I had begun to work toward new goals of working for the FBI.
Those dreams were crushed in March of 2000 when I was diagnosed with Narcolepsy and Idiopathic Hypersomnolence. Since then I have been diagnosed with fibromyalgia which prevents me from working or being very active. Unfortunately I am forced to sleep from 12-16 hours daily with no idea when those hours will be spent and no control. And I have lots of pain and nausea.
I suffered through lots of depression because inactive, unproductive and unsocial are NOT my personality. I felt trapped, like a wild animal in this cage of a body. I think I cried for at least a year, grieving myself as if I had died. I refused to give up and I searched for any kind of healing I could find. I further exhausted myself trying to force my body to do things it was unable to do.
When I realized finally that what I needed to do was accept my limitations, I began to relax and minimize my goals. I wanted a dog so bad I could not stop obsessing about it. I knew I could not handle a dog back then as I barely had three decent hours awake a day during that time. So I went to the shelter and asked if I could just come out and hold the animals. The reply was, "Absolutely, you rock!" from my now personal mentor.
I began holding the animals, petting them...my favorites were the most abused, scared, and sick animals. It gave me such comfort to let them know that someone loved them. The staff never asked me to do anything, but the longer I was there the more I could not stop myself from doing. Those animals could get me to do things for them that I was not even able to do for myself! I was able to hold a brush in my hand to help a matted animal when I couldn't hold a brush to my own head because of the pain.
I still wanted a dog of my own. I was so afraid I would not be able to care for it. So I got a brilliant idea. If I could have a service dog, that would take enough strain off of me that I could in turn, care for it. Okay, new obsession: learn to train a service dog...I certainly couldn't afford one.
Reading is difficult (puts me to sleep), but I was able to teach myself slowly how to train a service dog. A little 6 week old puppy that had been left at a roadside park in TX (in a crate) came in one night right at close. There was less than no room for her so she came home to sleep at my house until they could make a space the next day. This little baby (later named Star), would not sleep unless she was touching me. She gave sweet kisses with her puppy breath. I set her in a crate next to my bed and kept my hand stuck through it to touch her all night long so she would sleep. I was exhausted, but I managed to get her out to potty every couple of hours. I still don't know how I did it.
When she went back to the shelter, she cried at the top of her lungs for the next two days and DID NOT SLEEP! After recovering from having her the first night, I went back to the shelter. No one had been able to calm her and they had tried everything. I stepped into her pen and she ran to my shoe and passed out asleep as soon as she touched it. She had picked me. How could I not adopt her. She was a pit bull and so many rough looking men had been wanting her. I could see she had a strong personality and they did too. She had 'game". I knew I could not risk someone evil getting her.
I see this is getting long, so I will wrap it up. I began service dog training my dog and taking fosters at the same time. I have to admit that I got so busy taking in foster animals that her training never got done. I went from fostering animals to taking in strays of my own and finding them homes (mostly birds and animals that could not survive the shelter environment). One by one the household grew until I had to find a place big enough to take in more than one dog and cat at a time.
And I was daydreaming at my desk just recently when I realized, "OMG! I am fulfilling my childhood dreams!"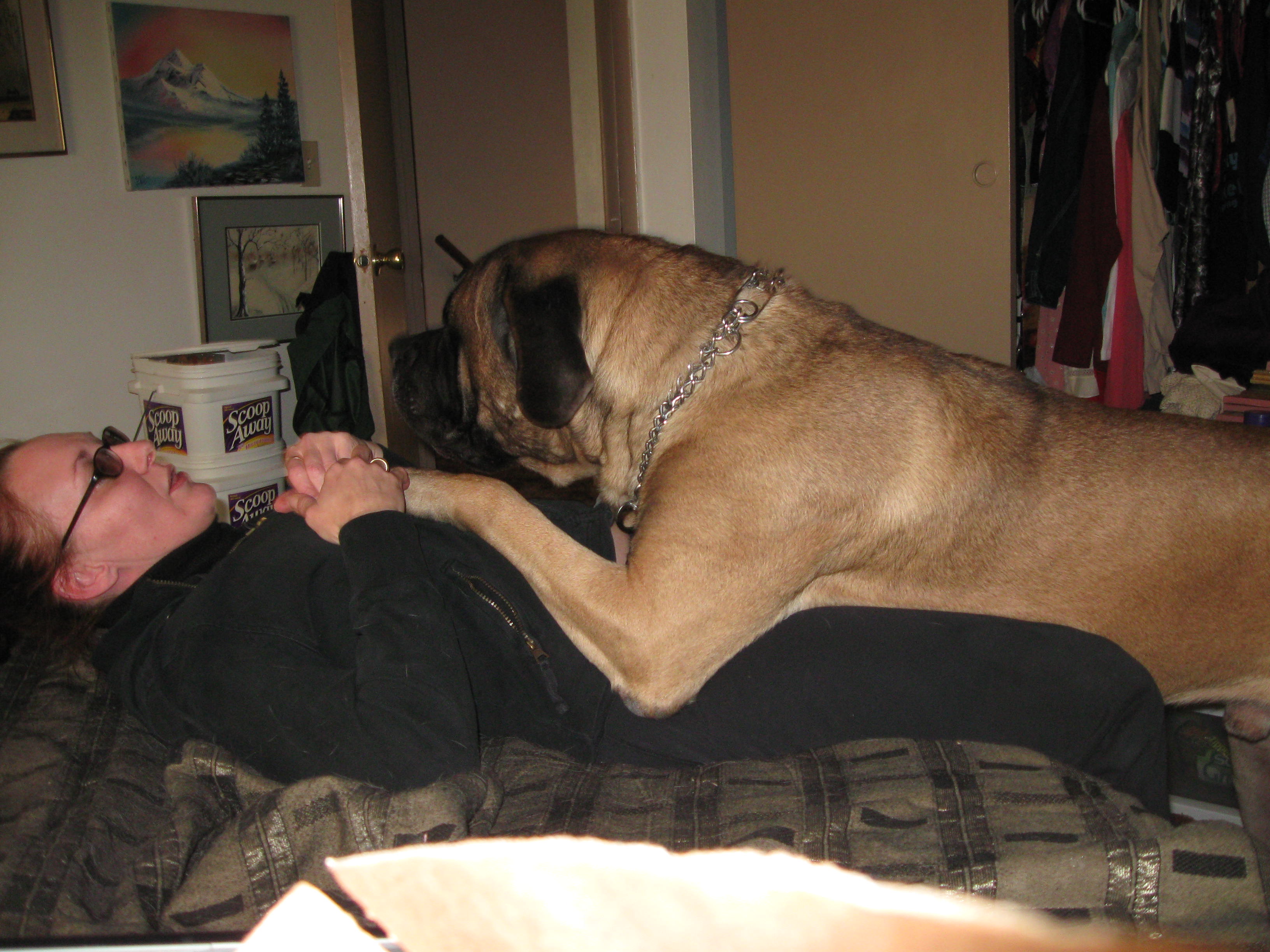 This is Kama; not to be confused with Kami. Kama and Luke have a great relationship. Luke loves to give her hugs. Kama needs to pay more attention to when he is about to bowl her over with one.
UPDATE: Luke no longer surprises people with his love. He waits for you to initiate the love. That is the way it should be with dogs. That tells them that you love them enough to care about what they do. Just always be sure to initiate love with your dog. Call him/her over when they are not expecting it and see how happy they are that you CHOSE to love them. A dog Luke's size can easily become a danger if they are not taught these simple rules. All of Mama Dori's dogs learn to NOT jump on people! But please NEVER teach your dog to stay out of the way but not give them attention. Then you are only showing your dog rejection.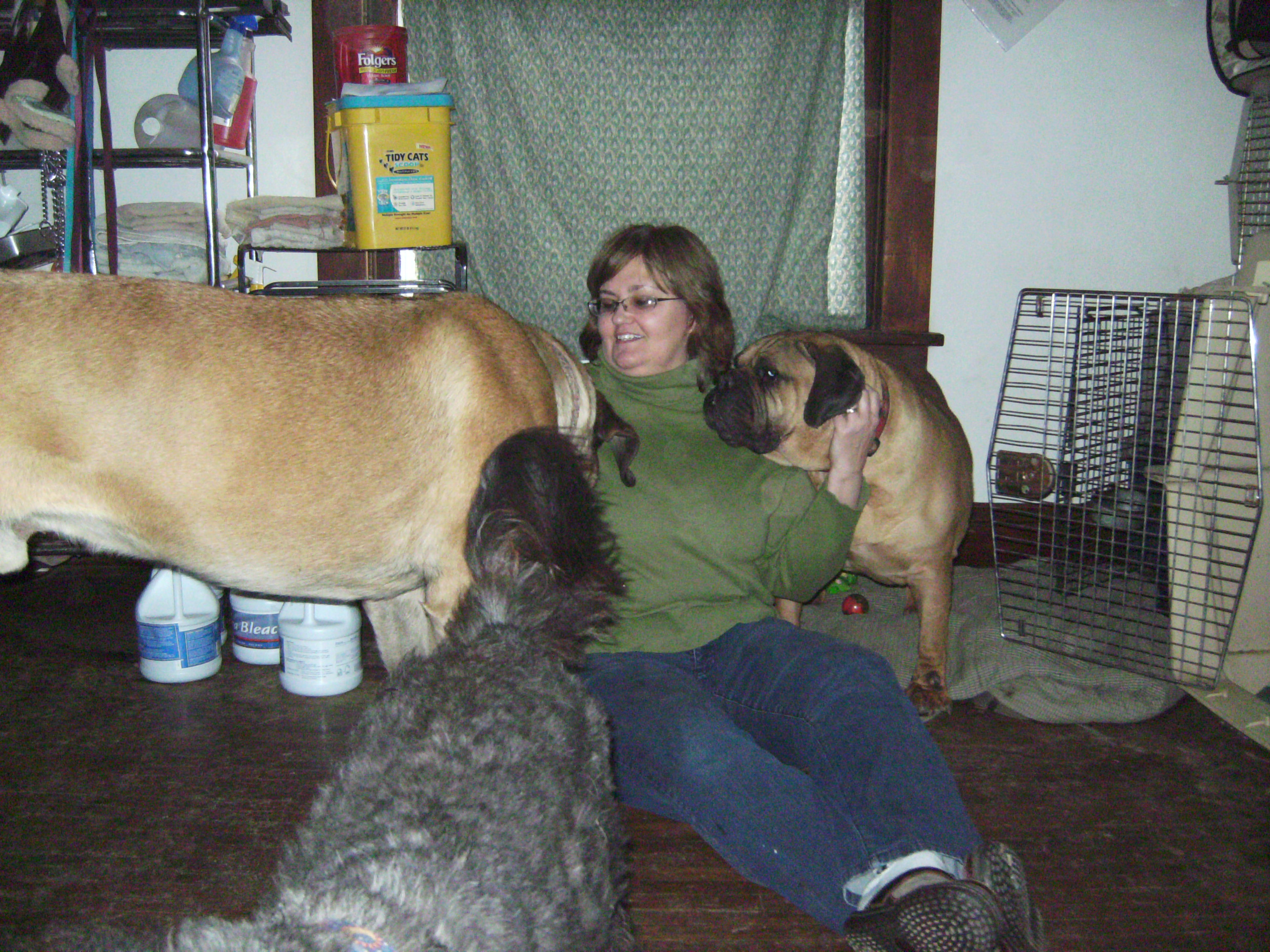 Here is a picture of Laurie here. You will love Laurie. We all do! Laurie is also one of our foster parents. And Laurie is kind enough to let us rope her into doing many other things.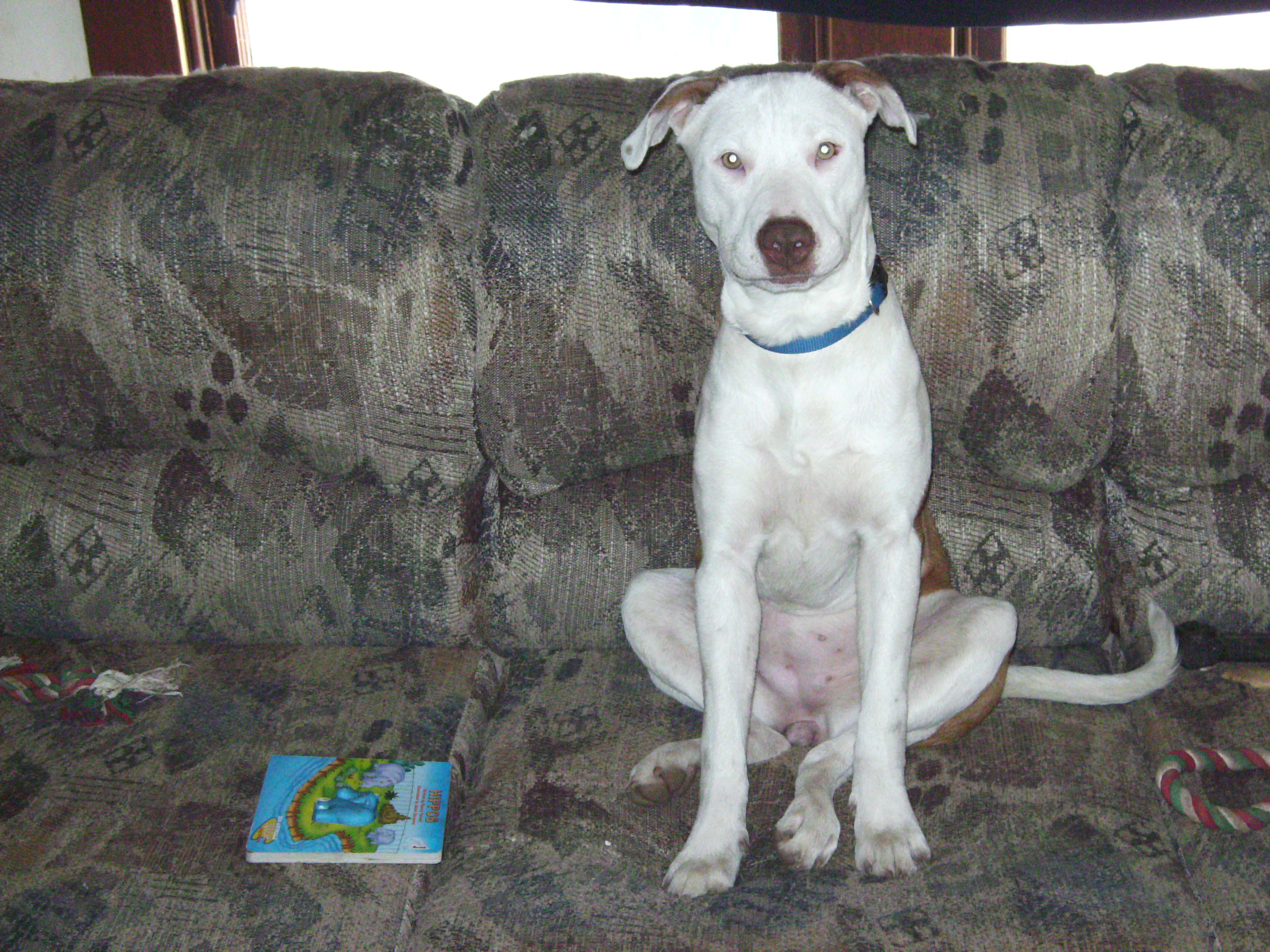 This is Esperanza. Her name means Hope. She is extremely active, but will sit down long enough to tell her story. Espy is the most perfect dog who has no home because someone didn't spay their animal. Espy's story includes the fact that her mommy's people said they loved animals. "But they don't know how close they put me to death. Some nice lady named Jennifer took me out of that scary place right before I would have gotten the BIG shot. You know the one I mean. Wheew! I am just scared that my brothers and sisters didn't get saved."