Enter content here
Enter content here
Enter content here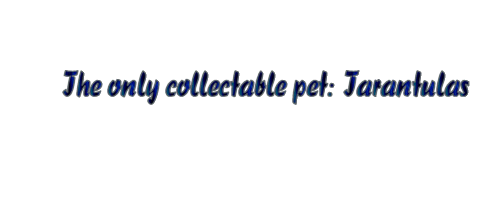 You CAN be an animal collector/hoarder!

Wow, did I get PETA's attention! Let me explain. The hottest new hobby right now is Tarantulas. If you cannot give an animal enough attention or if you are afraid you will forget to feed it, this is YOUR perfect pet. A happy tarantula is a neglected tarantula.
You rarely have to clean the cage. You feed it once a week. Make sure it has water, of course. And you never have to worry if you are giving it enough attention. What a dream come true. There are thousands of different species. They are better than pokieman cards. Just try to collect them all. It will keep you in the hobby for a lifetime. Do you want a special look or color? There probably is one like what you want.
The Rose Hair T is the best beginner species. I have heard it said that the Chilean Rose Hair is the gateway drug to collecting T's. And I believe it. Once you have a Rose Hair you will want them all, so be careful!
If you would like to learn more about T's, check out Arachnoboards.

This guy rocks! He has also made a large donation to the rescue! Thanks Todd!
www.KenTheBugGuy.com This guy always has great T'S! I have ordered from him several times and will do it again! Thanks Ken.
Artin always sends healthy specimens. And he has terrific prices! See what he's got right here: